Aluminum Utility Trailer Chandler
Are you in search of a durable and versatile aluminum utility trailer in Chandler? Look no further! Browse a wide selection of new Aluminum Utility Trailers from CHANDLER, ARIZONA. PRIMO Brand new Aluminum Utility Trailers around Chandler. Find great PRIMO deals on aluminum utility trailers. Book your slot and start
conversation with our sales team PRIMO enclosed trailers will be closest to you. Our sales team will be waiting for your call 480-378-0800. 
Aluminum Utility Trailer Chandler
If you're looking for a high quality Aluminum Utility Trailer Chandler, then look no farther than Primo trailer. Is there truly a benefit to buying an aluminum trailer? If you have owned trailers before, you may be wondering if buying and aluminum trailer would better suit you. One word, Durability! If there is one thing that aluminum trailers have over steel trailers, it is the fact that they are more durable.  But other than that, there are several reasons why buying an aluminum trailer over other materials may benefit you in the long run! If you are using your trailer throughout the year, you may worry about rust, corrosion, mold etc. They require almost no maintenance and are built to last for years!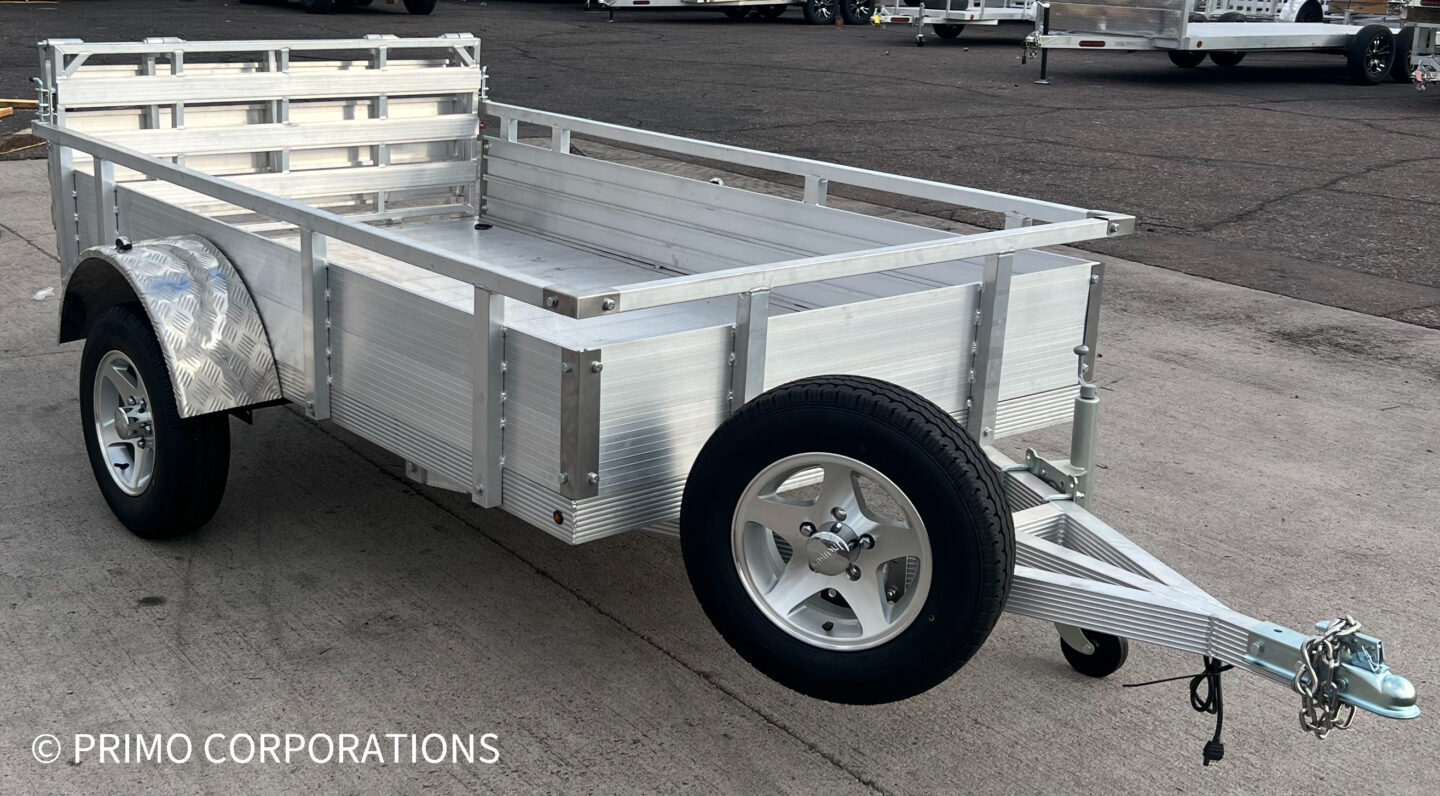 Aluminum is strong! Aluminum trailers are usually combined with a few other materials to create the structure of the trailer, but aluminum being one of the main metals. It is called an aluminum alloy, when these metals are forged together to create whatever formula they use to create the finished product. Aluminum trailers are also known for being a bit more flexible. Flexibility helps because if it is bent, it is much more likely to go back to its original stature. Aluminum is also a great choice because of its lack of repetitive maintenance. Aluminum has a great resistance to rust. 
PRIMO Aluminum Utility Trailer Chandler
In need of a new trailer?
Check out our full trailer inventory online today! We have tons of trailers in any model you need. Shop dump, enclosed, snowmobile, utility, fuel tank trailers, truck beds and more at PRIMO Trailers! Contact us online or stop by our dealership when you're ready to make a purchase.
Why PRIMO Aluminum Utility Trailer Chandler
PRIMO Corporations is a trailer manufacturer and seller in Chandler, AZ. We carry all types of utility trailers.
Had good help, purchased a aluminum utility trailer in chandler. Price very reasonable. Salesman very friendly and helpful
PRIMO Trailer dealership in Chandler, AZ. We carry all types of Aluminum utility trailers, ATV trailer, Dump trailers, Car Haulers
Frequently Asked Questions on "Aluminum Utility Trailer Chandler"
What is the advantage of a aluminum trailer?
Thanks to aluminum's lighter weight, you will experience an improved fuel economy with your vehicle when towing. Drivers who need to transport livestock say that their animals will enjoy a smoother ride in an aluminum trailer thanks to less impact shock.
What is the weight limit on an aluminum trailer?
A short, aluminum utility trailer may only have a GVWR of 1,000 pounds, while a wide, double-axle, steel utility trailer may be rated for 3,000 pounds. The average cargo load for small utility trailers is 1,800 pounds.
What is the proper care and maintenance of aluminum?
All aluminum surfaces should be kept clean by prompt removal of all dust, dirt, grime and any foreign matter using clean water and a small amount of mild detergent as required.
Does aluminium require maintenance?
Maintenance. The best way to keep aluminium looking pristine is regular cleaning to remove any build up of dirt. If left for an extended period of time, grime can cause staining and depending on the extent of staining will require a harsher cleaning system to remove the stain.
Aluminum Utility Trailer Chandler