Utility Trailers are useful for homeowners, professionals, and everyone in between. But shopping for the right trailer can be challenging so we put together a few questions to ask yourself to help match you with your perfect trailer.
What is my Intended Use?
How you plan to use the utility trailer is a major deciding factor in the type of trailer you buy. The specs that are best for you are determined based on what type of cargo you plan to haul, and how frequently you plan to haul it.
What Type of Utility Trailer Do I Require?
Be familiar with the different types of trailers offered.
The Utility Trailers/Landscape Trailers  are made without walls or ceilings. The open trailers have low railings or solid sides to help contain your cargo and slats or d-rings to secure your equipment. A Utility trailer is most ideal for hauling landscaping equipment, garden equipment, lawn mowers, camping gear, and much more.
Whereas the utility trailer is open, Enclosed Trailers are closed by four walls and a ceiling. The trailer gives you the ability to protect your cargo from the elements. Also, the Enclosed Trailers can be locked and secured when you leave it unattended. They're most ideal for hauling equipment, atvs, cars, bikes, and more.
Single Axle trailers have one set of wheels. They can haul small business-related cargo or everyday household items. These trailers are easier to maneuver due to their lightweight.
Tandem Axle Trailers have two sets of wheels. The two axles are placed close together at the center of the trailer, dispersing the weight of the cargo to provide shock absorption and increased maneuverability. Tandem Axle trailers are perfect for hauling heavy loads.
Can My Vehicle Tow the Utility Trailer?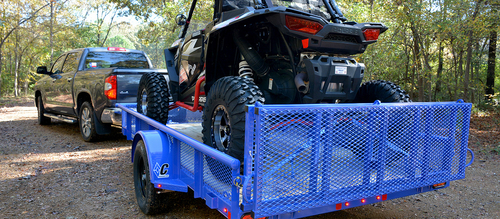 The weight of both the load and the vehicle is another primary deciding factor. To make sure a trailer is compatible, check the gross combined weight rating, or GCWR. This stat is the maximum towing capacity weight of the trailer. To protect the towing vehicle's engine, locate the maximum towing weight, found in the owner's manual. Once you know the maximum load that your vehicle can tow, subtract the weight of the trailer. That is the maximum load that your vehicle can handle.
Does the Trailer Pass Inspection?
It is essential to inspect a trailer before buying. Check the below areas to guarantee that you are getting the best trailer.
Item:
What To Check For:
Tires
-No cracks or plugged holes
-Even wear
-Able to carry the intended load
Bearings
-Lubricated and properly seated
-No side by side or up and down
Brakes
-Ask about the break functions
-Inspect pads, shoes, drums, rotors, and magnets
Suspension
-No cracks in the leaf springs or spring hangers
Ramps
-Straightness
-No Cracks
-Level of strength
Hitch
-Latches and unlatches properly
-No missing parts
What About A Used Utility Trailer?
You may be able to cut costs by buying a used trailer. However, you need to consider a few things before deciding a used trailer is for you.
1. Repairs Costs
What kind of investment is it? Is it ready to haul heavy equipment frequently?
2. Inspection
Does the used trailer pass the previously mention inspection? If not, then a new trailer is probably better suited for you.
3. Bigger Picture
Is the used trailer in a condition to last for many years to come without requiring constant repair? If a significant amount is needed, it may be better to pay more upfront for a new trailer.
4. Warranty
Do you require a warranty? If so, you will want to buy new because you won't receive a warranty with a used trailer.
Final Thoughts
Now that you have a strong understanding of what to look for in a trailer, searching should be a bit less challenging! Remember to stay informed and get shopping (or renting)!